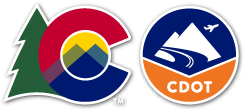 CDOT Key Management Contacts
CDOT Transportation Commission
4201 East Arkansas Avenue, #270,
Denver, CO 80222
303-757-9025
CDOT Organizational Chart
Materials and Geotechnical Branch
Craig Weiden State Materials/ Geotechnical Engineering Branch Manager
[email protected]
303-398-6501
Michael Stanford, Asphalt Program Manager
[email protected]
303-398-6576
Melody Perkins, Pavement Design Program Manager
[email protected]
303-398-6561
Laura Conroy, Pavement Management Program Manager
[email protected]
303-398-6579
DBE GOALS & GOOD FAITH EFFORT:
Contractors can use Form 1336 to request a waiver for On The Job (OJT) Spec Requirements.
It is important to submit the request at the start of the project rather than wait until the end.
Here is a list of the Civil Rights Managers: (Updated 9/2015)
HQ _ Denver - Greg Diehl, Phone 303-757-9969
Region 1 - Kathy Williams, Phone: 303-757-9386
Region 2 - Mary T Vigil, Phone 719-546-5432
Region 3 - Chip Brazelton, Phone: 970-683-6202
Region 4 - Juliet Sheetsant, Phone: 970-350-2156
Region 5 - Jason Berally, Phone: 970-385-1403 [email protected]
Katherine Williams
Small Business Programs/Title VI Lead
CDOT Civil Rights and Business Resource Center
4201 East Arkansas Avenue
Denver CO 80212
[email protected]
Phone: 303-757-9162
 
For a more comprehensive list of CDOT personnel, obtain the current copy of the CAPA membership directory by clicking here and requesting a copy of the directory.