New member added to the Colorado "Asphalt Hall of Fame".


On Wednesday evening February 9, 2022, Harvey Elger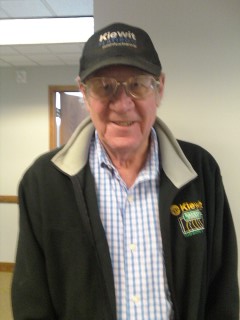 was added to the "Hall of Fame" with the induction ceremony held at the conclusion of the 28th Annual "best in Colorado" Awards ceremony. Harvey was honored for his more than 50 years of dedicated service to Kiewit Infrastructure and to the Asphalt Industry in Colorado. Harvey was in attendance along with more than 50 other Kiewit Employees and 275 other industry professionals. There was a short video prepared by the employees at Kiewit to let Harvey know what he has and still means to the organization. To see the video, use this link. 
Here is the information provided for his nomination into the Colorado Asphalt Hall of Fame.
Harvey Elger, Kiewit Infrastructure Company
Harvey started his road construction career fifty years ago when he came to work for Kiewit on the I-70 project near Eagle as an assistant office manager. He grew up in Quebec Canada, went to College in Utah, then moved to Eagle in his early 20's and worked at the Eagle lumber company before coming to Kiewit. He worked on various road projects throughout Colorado and became a foreman in the mid 70's. Harvey took a liking to the asphalt paving work and started working at Kiewit's Clark pit near Chatfield reservoir in the early 80's. He was quickly promoted to project manager and managed the aggregate and asphalt production out of that facility for over 20 years. Harvey oversaw most of the paving projects around Denver at that time and was involved with the DIA work in the early 90's and setting up the Aurora plant. Harvey has trained countless people over the years and has always demanded high quality and safe operations. Many of our executive managers have gone through Harvey's school of hard knocks, but he is a great salesman and everyone who knows him loves him. He knows so many people in our industry and makes a point to call them often just to see how they are doing. Harvey continues to oversee the Kiewit Sedalia operations and in town paving work and obviously still loves what he does.
Future Nominations: Send nominations via e-mail to Tom Clayton The nomination deadline for 2021 is Friday, January 6, 2023. Nominations should identify the person being nominating and briefly explain his/her contribution to asphalt paving in Colorado.
To see the criteria, Click Here.
The nominations will be evaluated by the CAPA Board of Directors.
The Colorado Asphalt Hall of Fame was established to recognize those persons from the Asphalt industry who have made significant contributions to the Asphalt industry and helped advance the use and quality of Asphalt Pavement in Colorado.
The nomination guidelines and criteria are available from this Link
To date there are 19 members who have been inducted into the Hall of Fame. The initial group of men (pictured) inducted were instrumental in getting CAPA up and running in 1983. There was no blue print and no owner's manual on how to launch an association.
If it wasn't for their dedication and commitment to the industry, we wouldn't be where we are today as an association or as an industry.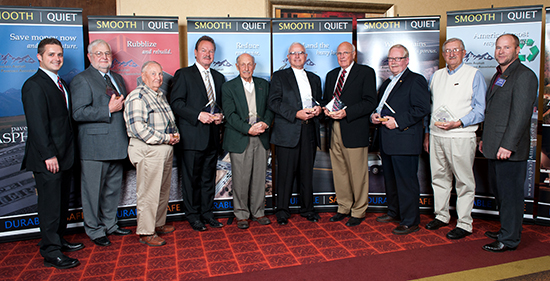 Bill Lauer

 - Sterling Companies
Mike Mikkelson - Western Paving Construction Company
Bob Bisgard - Asphalt Paving Company
Ira Paulin - Carder Incorporated
Bill Paukovich - Brannan Sand & Gravel Company
Curt Marvel - Brannan Sand & Gravel Company
Dennis McCarron - Flatiron Paving Company
Skip Bettis - Siegrist Construction Comapny
John Boring - Consultant
Swede Kamm - Faris Machinery Company
Carl Stuka - CDOT, Brannan Sand & Gravel Company
Junior Elliott - Western Paving Construction Company
Herman Altergott - Aggregate Industries, WCR
Sterling Klopenstein - Schmidt Construction
Richard "Dick" Coulson - Coulson Excavation Company
William "Bill" Keller - Asphalt Paving Company
William "Paul" Rippy - Grand River Construction
Clyde "Geno" Chavez - Schmidt Construction
Rob Mangone - RMMA and Martin Marietta
Harvey Elger - Kiewit Infrastructure
Colorado Asphalt Career Achievement Award – Summer 2015
Denis Donnelly 

– CDOT and the Colorado Asphalt Pavement Association

Denis Donnelly
Denis Donnelly Receives a Career Achievement Award Longtime CAPA Consultant Denis Donnelly was presented a Career Achievement Award at the recent CAPA All Member Meeting. Denis spent many years with CDOT and nearly 15 years with CAPA. All the best to Denis and Kathy in retirement.