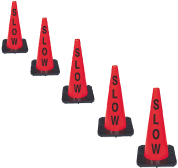 Safety Seminar information (3-30-2018)
ASPHALT PLANT PRODUCTION SAFETY VIDEO
Asphalt Plant Safety ED C Levy Companies Video (Schmidt Construction in Colorado)
This is a video produced by the Edward C. Levy Company on Safety in and around Asphalt Production facilities.
Edward C. Levy Company is the parent company of Schmidt Construction Company of Colorado Springs and Castle Rock, Colorado.
NOTIFICATION AND RELEASE
The attached safety video was created by Schmidt Construction Company for its internal use. It is used by Schmidt as part of an ongoing, comprehensive safety program. While we hope that it will assist you in enhancing the safety of your employees and visitors, Schmidt disclaims any representation that it is a complete safety instruction tool. Schmidt did not create it for that purpose. You, through the safety programs that you develop, are solely responsible for safety at your workplace. By using this video, you agree that Schmidt shall have no liability for any injury or damage at your site relating in any respect to the video, and you hereby release Schmidt from all such liability.

Cooling Asphalt Burns
The Asphalt Institute's (AI) Health, Safety and Environment (HSE) committee develops tools for members and the public that can be used to protect people working in the asphalt industry.
One tool developed during 2014 was guidance on how to prevent asphalt burns. The efforts highlighted the importance of immediate cooling of the asphalt to prevent further injury if someone got asphalt on their skin. The committee produced training materials devoted to assisting on-site first aid response for asphalt burns.
The burn treatment tools included a 13-minute video that included testimonials from asphalt workers that had suffered asphalt burns. The video also included simulated accident scenes highlighting the inherent dangers of working around hot asphalt and how to prevent burns. To accompany the video, the committee also developed and published a series of wallet cards and posters on recommended personal protective equipment (PPE).
See the entire article Staying safe is a top priority
Work Zone Safety
ROADWAY SAFETY+
A Road Construction Industry Consortium Program
The Roadway Safety Awareness Program provides an overview of common hazards in highway and road construction and simple prevention measures. It is designed for use by supervisory personnel with some safety and health experience or by safety and health personnel to orient new workers as they arrive on the jobsite. The program contents are available in English, Spanish, and Portuguese.
This program is not intended as a compliance guide. It is intended to help your company produce the worker awareness needed to achieve best practices. It is not a substitute for an OSHA 10-hour course or more in-depth training. It is a labor-management safety reminder.
See More ROADWAY SAFETY+

Put Plans in Place to Protect Workers from Silica Dust at the Plant (Link to Article)
If you or your company is interested in learning more about the hazards of silica dust, current regulations, and best safety practices, reach out to David Elam at (919) 631-4331 or David Elam